Without a doubt, a customized all-season sunroom can improve the overall appearance of your home, however, only when you put in a bit more time and work into it. The room itself isn't what is going to re-define your house—it's the manner in which you embellish it to make it feel as though it is an integral part of your house.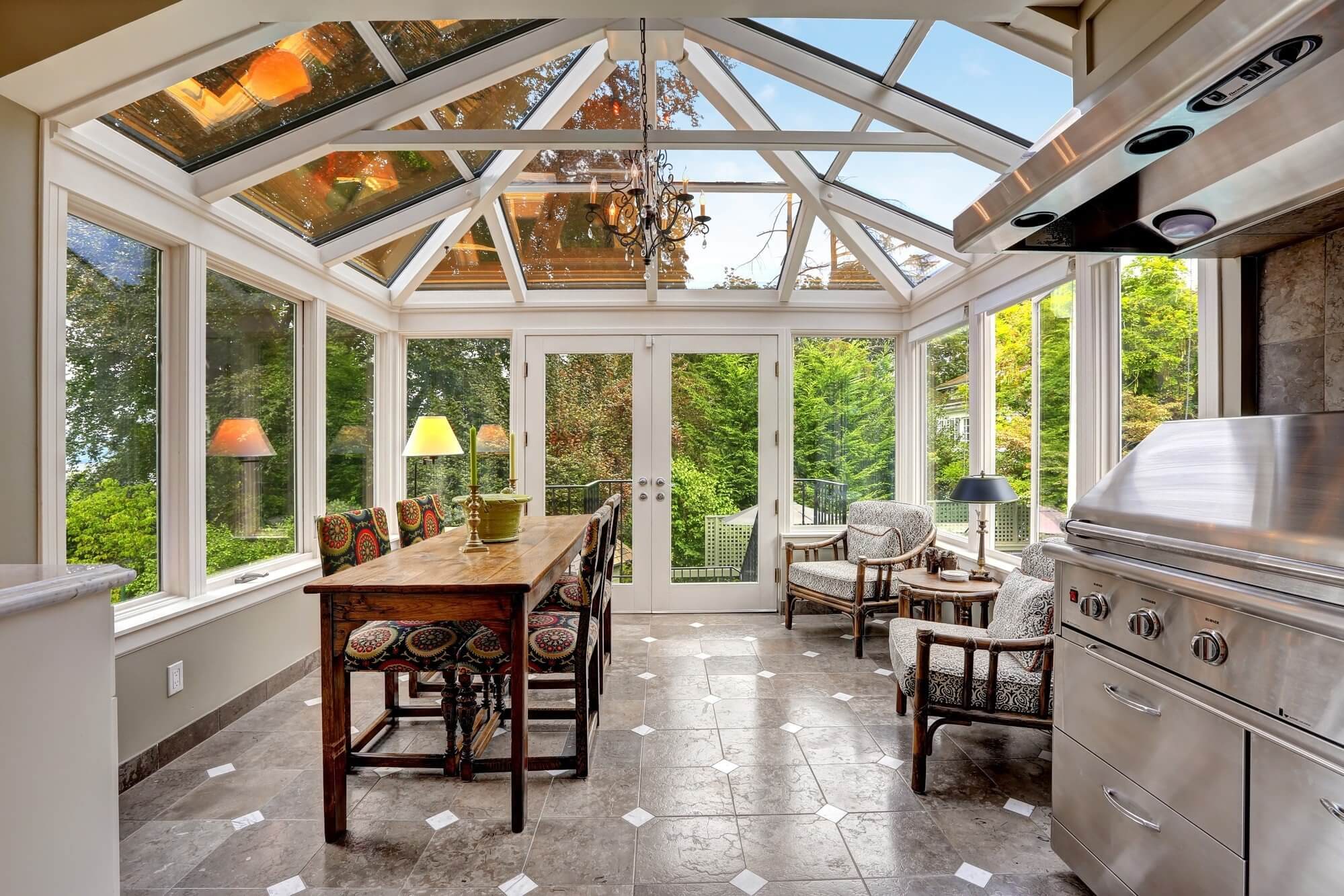 If you wish to create an ideal sunroom area, it's all in the points mentioned below. Here are a few must-have facilities that are perfect for an addition to your sunroom:
Plants:
Usually, every sunroom design involves allowing a bit of outdoors in. This implies placing a few plants, flowers or shrubs inside the sunroom to give it a perfect view of the outdoors. You can also go for potted plants hanging from the ceiling of the sunroom or grow a rose vine on the edges. Considering the fact that sunrooms usually get a lot of sunlight, plants that cannot survive elsewhere in your home, such as orchids, can thrive in this area.
Lighting Options:
The sunlight does not illuminate your house all the time, so you require proper lighting system in your sunroom, as well. The common choice of people looking for lighting options remains lamps; however, why not accentuate your setting by being a little creative?
If you wish to make an impact on your guests, go for a large-sized chandelier that hangs from the sunroom's ceiling. If you are someone who prefers giving a rustic look and feel to your sunroom, hang in a few old-style lanterns and light them up with candles.
Sheer Curtains:
Hardly anyone likes to hang in curtains or make use of blinds in their sunroom since the entire purpose of having a sunroom in your house is to allow the sunlight in. This, however, can imply compromising on your privacy. A good solution to your privacy issue can be hanging sheer curtains on the windows. You can easily tie them up whenever you want to bask in the sun or cover the window panes whenever you need privacy. Since they are sheer in nature, they would anyhow impart a perfect glow to your sunroom, at all times.
Decorative Fireplace:
Want to make full use of your sunroom despite the chilly weather conditions? A fireplace can help make your room feel cozy and warm. Setting up a fireplace can present the sunroom an ideal focal point, and also keep you warm during severe weather conditions. Nowadays, electric fireplaces are available in the market, and they do not necessitate any kind of major installation.
Kitchen:
A lot of people utilize their sunroom area to gather with their friends or family on special occasions. We, even, use sunroom to relax in a quiet setting and read a good book. Sunrooms provide a lot of benefits, however, there is so much more to the area that can be done.
Ever heard of a sunroom with a kitchen? Even if you do not prefer having a full-fledged kitchen, you can take into consideration setting up a kitchenette to fully utilize the area. It would also help you serve food or drinks a lot quickly and effortlessly at your next gathering.
If you are planning to have a sunroom installed but are not sure regarding the style that would be an ideal match for your home, visit https://fourseasonssunroomsvancouver.com/ and check out what we have in store for you. You can also call us at 604-526-2699 if you are looking for reliable and cost-effective sunrooms in Vancouver. Our team is more than willing to help you find an ideal sunroom for your home.